There are many workers in New Orleans with long-term disability insurance. Employees like yourself have been making contributions every month as apart of private plans or employer-sponsored plans.
This is done so if they become disabled, they will receive Long-Term Disability Benefits. With this benefit, you can expect to get between 50% to 80% of their prior earnings.
Unfortunately, there is a lot of bureaucracy involved in filing for benefits. The process can be very frustrating without an experienced attorney.
Insurance companies are not very willing to pay out claims. Think about it, If they paid every claim received, they wouldn't be able to stay in business. For this reason, the slightest error or omission on your application can cause an instant denial.
That's where long-term disability lawyers like us at Ascend Disability come in. We know exactly how to deal with insurance companies and will fight by your side until you receive the compensation you deserve.
If you have a disability preventing you from working, an attorney's guidance is necessary. Even if you've already had a claim denied, we may be able to help you. Contact us today at (855) 445-9787
What New Orleans Long-Term Disability Lawyers Need You to Know
It is important to review your policy documents to see exactly how your insurer defines disability. This typically varies from policy to policy. Even if you qualify for benefits under Social Security Disability Insurance, you may not meet your insurer's criteria.
You should, therefore, contact a long-term disability lawyer in New Orleans for advice. They will help you to determine if you have a case. At Ascend Disability, we will examine your policy and your medical records and give you our professional opinion.
Since, we have seen all types of policies and medical conditions over the years, you will benefit from our expertise.
Own Occupation vs Any Occupation Benefits
Many long-term disability plans offer two types of coverage. The first pays you benefits for a year or two if you can no longer perform your usual duties. This known as "own occupation". If you require ongoing benefits, you will have to prove that you can't do any kind of work. Ongoing benefits are paid on the basis that you can't do "any occupation".
For example, let's say you are a carpenter and you become physically unable to carry out the associated physical work. You would be considered disabled due to the fact that you can no longer do your "own occupation". This refers to your usual job.
However, you may be able to do another less strenuous job when you have recovered enough. A carpenter who can no longer climb or lift heavy objects may be able to answer phones or update timesheets.
The definition of disability in relation to "any occupation" is stricter. You must be able to show that you can't perform any job for which you are trained, qualified or educated. We can help with gathering the necessary evidence and presenting in the format required by the insurers.
Many LTD policies will transition from "own occupation" to "any occupation" after about two years. However, the benefits may be terminated if the insurer believes you have recovered enough to do some type of work.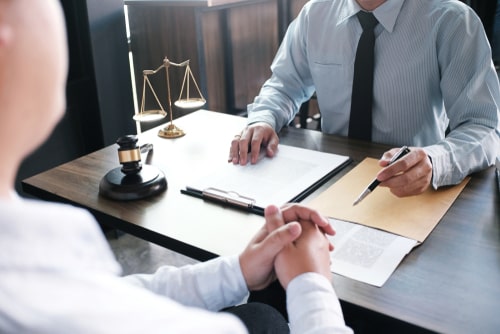 Challenges Faced When Applying for Benefits
Some LTD insurance plans are governed by the Employee Retirement Income Security Act (ERISA). This includes those which are part of an employee benefit plan, except those offered by churches or government institutions.
ERISA tends to favor insurance companies and these places claimants like you at a disadvantage. If you need to sue the insurance company, you must file the case in federal court. You will not be entitled to punitive damages.
There is also no guarantee that the insurer will be required to pay your attorney's fees. This is something your long-term disability lawyer will explain to you up front.
If you have an individual plan or your employer is a church organization or government entity, things are different. The state law govern these long-term disability plans. You may be able to get insurance payments, punitive damages, and payment of attorney's fees.
Self-employed individuals in New Orleans face special challenges when seeking LTD benefits. It is best to contact a lawyer before you file a claim. Insurance companies will use their usual tactics to avoid paying you your benefits.
However, they will also charge that you are not really disabled. They will allege that you are just bad at business and you're looking for money. You need to pre-empt a move like this.
Generally, most long-term disability plans are hard to understand and filled with jargon. Your policy may include lots of exemptions and strict deadlines for filing claims. Contact our experienced attorneys at Ascend Disability before you submit your claim.
We will make sure you have all the necessary supporting evidence from medical personnel. This will be necessary to prove your disability. We will make it clear that you are really unable to work. We will also ensure you file your documents in time.
How a Long-Term Disability Insurance Attorney in New Orleans Can Help
Long-term disability benefits are simply easier to get when you have the help of an attorney. If you don't know how the system operates, you may feel like you're going in circles. It can difficult to understand exactly how your condition will be evaluated.
If you fill out your forms incorrectly or fail to provide certain information, your claim can be denied. Many claimants give up at this point. The entire process seems not to be worth the effort. They simply choose to get by the best they can. However, this is exactly what the insurance company wants you to do.
Instead of giving in, get the legal help you need and fight back. Seek the services of an advocate with years of experience handling disability claims. Our attorneys in New Orleans know the pitfalls to avoid.
We know how to get the necessary medical evidence and we know how to argue a case. We are also very aware of the fine print on your policy documents which you may have missed. After we work on your case, the insurer is more likely to pay your claim.
It is best if you contact us before you file your application. However, we can assist you at any stage of the process.
We Can Help You By:
Getting the necessary medical reports from all the doctors who treated/are treating you
Referring you to a specialist if additional reports are needed or questions are asked
Obtaining an expert opinion on your ability to work
Request that they reopen an earlier application for disability benefits
Asking for waiver of an instituted time limit
Seeking subpoenas to ensure your important witnesses and documents are present
Guiding you on to how to prepare for your hearing and what to say in your testimony
Objecting to inappropriate or illegitimate procedures or evidence during the hearing
Cross-examining witnesses when necessary
Presenting a closing statement to summarize your case
Ensuring we calculate your benefits are correct if you win
Appealing the decision if you lose and want to fight further
This is a lot to do. Even an individual with legal knowledge would find it difficult to handle if they are disabled. If like most people, you don't know the legal system very well, it would be impossible to win. It is best to focus on your recovery. While you do that, a long-term disability attorney in New Orleans will fight for you.
Tactics Insurance Companies Use to Issue a Long-Term Disability Denial
Disability insurance companies can get quite creative when denying claims. As noted earlier, they may argue that self-employed people who apply for benefits are simply bad business people. Insurers may also deny LTD claims based on the opinions of their paid experts.
They will get their own medical consultants to give input on your case. Insurance companies do this even though these consultants have never met or treated you. These professionals may even disagree with the doctor who is actually caring for you.
When this happens, the insurer will reject your doctor's opinion and accept that of their consultants. Not even your opinion will be taken into consideration. In the end, a claims adjuster with no medical knowledge will determine whether your claim is accepted or not.
If you don't have a lawyer to represent you, you may not get the benefits you need and rightfully deserve.
Long-term disability insurers may also ask you to authorize them to collect personal information about you. If an insurance representative asks you to sign any documents, you shouldn't do so without speaking to your attorney.
If you've already signed them, the insurers will collect years of medical records. They will look for any prior information they can use to deny your claim. None of it may be related to your disability but they will use it anyway.
Insurers will also hire private investigators to follow you and see what you're doing. If you're seen lifting objects or throwing a party, they will argue that you're faking your disability. This is why you need to have a disability insurance lawyer on your case.
They know all the steps insurance companies are likely to take. They can guide you on what to say and how to behave while your claim is being considered. Even the most innocent comments or actions can get your claim denied. You don't want this to happen. As soon as you can, get a disability lawyer on your case.
Contact Ascend Disability Today for Help with Your Long-Term Disability Case
Ascend Disability is dedicated to representing people like who have worked hard to provide for their families. Now that you have become disabled, your insurer should provide for you. Unfortunately, it can be difficult to get what you deserve.
That is why we will represent you through every step of the process. We will ensure you fill out your application form correctly. We will then follow through and ensure that the insurance company acts in your best interests.
Negotiating and battling with an insurance company in New Orleans can be daunting, especially when you are unwell. However, you don't have to handle it alone. We're here to give you the legal representation you need.
We have skilled, experienced attorneys and support staff who know how complicated the system is. We also know how traumatic it can be to face disability. You will be worried about how you will meet your current and future needs.
Both you and your family can suffer when you're no longer earning an income. We, therefore, deal with each case on an individual basis. We are empathetic and we look at the total picture.
Many people who file for long-term disability benefits without the help of an attorney are unsuccessful. They may submit incorrect paperwork or fail to provide sufficient information.
If the insurance company doesn't consider all the available information, they may not be aware. Strong cases take time to build and a sound knowledge of the system is required. It is unlikely that you have the necessary skills but we do.
We offer free consultations and if you choose to hire us, you don't pay us unless you win. If your claim is successful, our fee is capped at 25% of the back-pay you're owed. We don't get any of your monthly benefits. You, therefore, have nothing to lose by contacting us.
Reach out today at (855) 445-9787 to schedule your free consultation.