Suppose you or someone you love needs to file for Social Security Disability benefits. In that case, you'll want to contact a Social Security Disability Lawyer to ensure that your case goes through as easily as possible. They will know how to properly prepare your case to present it in the best possible light to the Social Security Administration.
Your case is unique to you. We understand that this is a complicated process for you to go through during your disability. Our services offer you a free consultation that will make it much easier for you to navigate.
You don't have to go through this alone; give Ascend Disability a call today at (855) 445-9787 and schedule your free consultation today. We're only a phone call away.
What Can Social Security Lawyers Do For Me?
Social Security lawyers work to help people like you who have experienced a mental or physical injury or disability win their case in court. They are attorneys who are highly trained professionals and an experienced attorney will guide you through the filing process.
They will file your documentation and forms and appeal your case if need be. Your lawyer will offer legal advice, prepare and file for your benefits, and give legal representation to ensure that you and your family receive compensation.
In essence, your attorney will know all of the information needed for the social security administration.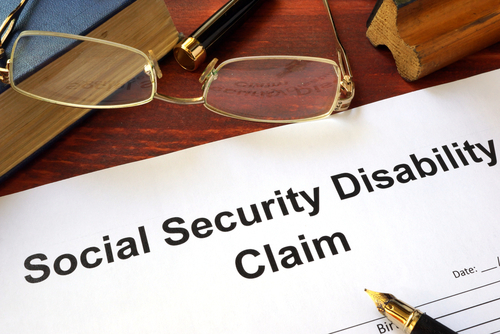 Do I Qualify for Social Security Benefits?
There are many mitigating factors regarding obtaining Social Security Disability Benefits. These include your age, your work history, and your income. To be eligible for your Social Security Retirement Benefits, you must have at least ten years of work history where you paid into your benefits.
Also, If you worked and paid your FICA taxes, you may be eligible to collect Social Security Disability or Supplemental Security Income (SSI) benefits.
However, If you haven't been able to get enough work credits for ten years to earn your eligibility, there may be other options for you to go with. Your attorney will be able to go over these options with you at the time of your hearing.
Next, Disabilities can cover both physical or mental impairment and physical or mental impairments. Your eligibility for both of these will be determined by working with your lawyer. Make sure to take full advantage of our free consultation to ensure that you make the right decision regarding your disability benefits filing.
Each of the benefits has its specific eligibility requirements; you can learn more information regarding these requirements from the Social Security Administration. However, you will be advised thoroughly on how to navigate this.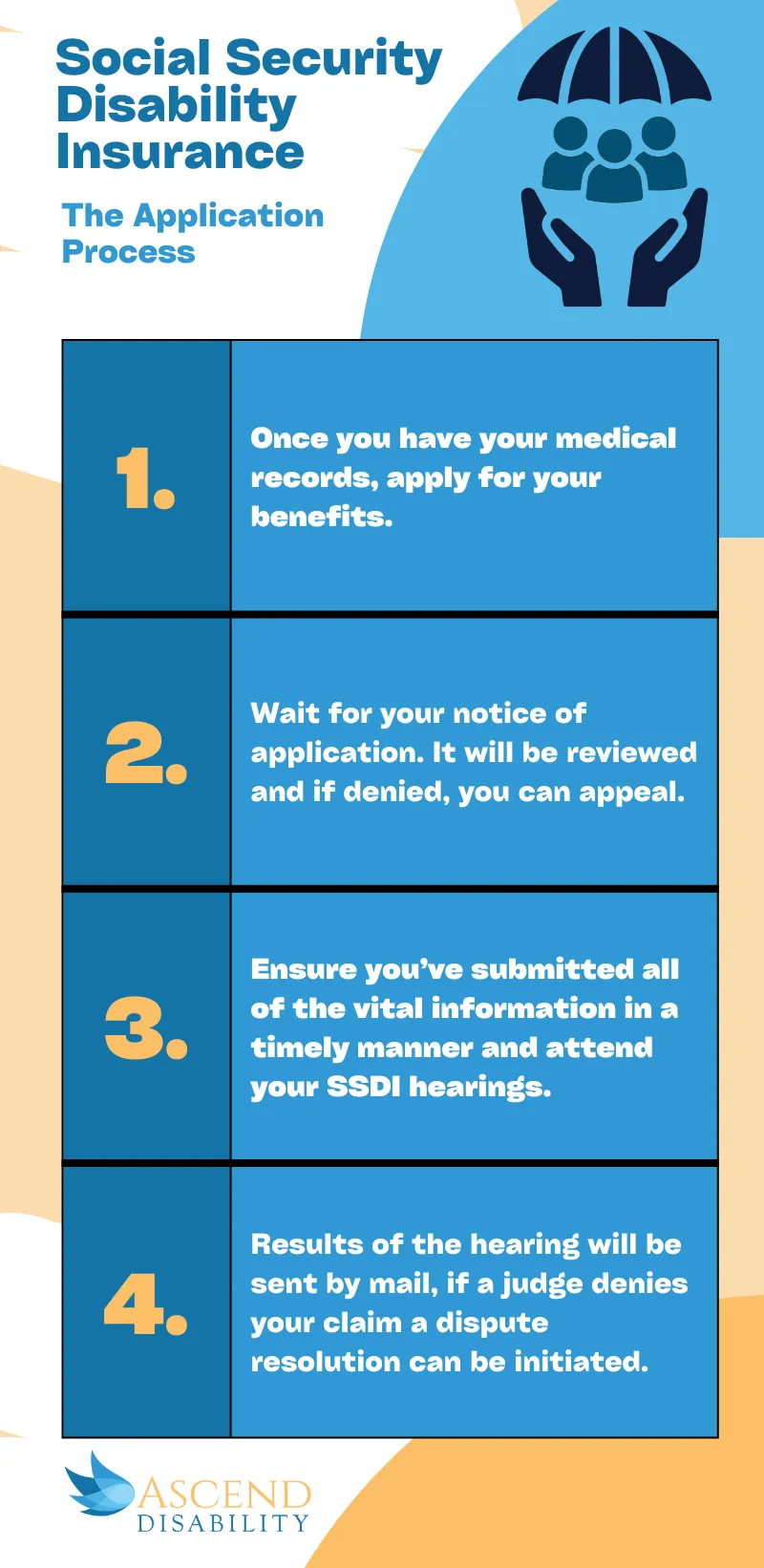 SSDI Application Process
There are several steps required in order to process your Social Security Disability Insurance.
The SSDI application process consists of several steps; the length of time it takes for the application to be processed varies depending on the individual applicant's situation. These are the steps that will take place for your application to be processed:
You'll require your medical records before you can apply for your Social Security Disability Insurance. This information should include any injuries and surgeries that you've had. Check with your doctor and the hospital if you've been to one. You can also check with your regular clinic.
 Apply for your Benefits. You can do this online, over the phone, or in person at your local Social Security Office. You'll need to have copies of all of your above documentation to prove that you meet the requirements of the Social Security Administration.
 You'll have to wait for your Notice of Application. Your application will be reviewed, and the supporting materials will be perused to determine if you will qualify for benefits. It's important to check on your status to ensure that your claim is moving along through the process.
 If you are denied, you can appeal. Many claimants are denied benefits the first time they apply; this isn't unusual. If you're denied, you do have the right to appeal.
When you appeal, it's important to ensure that you're submitting all of the vital information and medical information that is required in a timely fashion.
 Attend your Social Security Disability Hearings. You can present additional evidence in support of your claim, and the Social Security Judge will decide your case. You'll have to answer questions asked by the judge.
 Results of the hearing will be sent to you via mail. If you're awarded benefits, the Social Security Administration will backdate your benefits to the date of your application.
 Dispute Resolution may be initiated if the judge denies your claim. If your claim is denied, you can seek further dispute resolution if you feel that you were wrongfully denied. This includes filing a civil action in Federal Court.
What Do I Need to Know About the SSD Claims Process?
The process for Social Security Disability Lawyers is very long and complicated. According to the NCOA, it's important to understand all of the steps before you begin the process.  First, You must provide evidence of your disability.
This evidence should include medical records and reports so that the Social Security Administration can decide on your disability. Once you've been approved for benefits, you'll need to submit a claim for Social Security Disability Insurance (SSDI) benefits.
Also, you may be required to attend an in-person interview at a local Social Security office with a representative of the Social Security Administration present. The Social Security Administration will review your claim and make a final decision.
If your claim is approved, you can anticipate receiving your benefits within a few weeks of your approval. The benefits will be backdated to the date that you applied for benefits.
If your claim is denied, you will be able to appeal the denial by submitting additional evidence or by requesting a hearing. You want to act swiftly as it is important you understand the process, to ensure you get all of the required documents into them promptly.
Once the required information is gathered, your case will be reviewed again. A final decision will be made on your eligibility after they've received and reviewed all of the documentation that you submit.
When filing an appeal, it is crucial to operate under an expert's legal direction.
What Happens During Your SSD Claims Hearing?
A Social Security Disability Claim hearing will usually last about an hour. During this time, the Administrative Law Judge or ALJ will preside over the case. You will be asked several questions about your job (if you're still working), your disability, and the last date you worked (if you're no longer working).
A Vocational Expert may also be present at the hearing. They will include testimony regarding jobs you may be qualified for with your specific disability.
They may also present evidence that you're unable to work any of the jobs that would be available for medical reasons.
Other evidence that may be required will include your medical records and job records. If you haven't worked for at least ten years, you may not qualify for benefits at all.
It's important to understand that you must have paid into the system to take from the system.
If you or someone you love is unable to work due to a medical or mental disability, you may be eligible to collect Social Security Disability benefits.
If you choose to file a disability, you'll want to contact a Social Security Disability Lawyer to oversee your case and ensure that you're eligible to file your claim.
It is extremely important to work with experienced attorneys for your claim. Give us a call at (855) 445-9787. The sooner you call, the sooner we can prepare your claim.
Annual Scholarship