Are Veterans Disability Benefits Retroactive?
If you are a disabled veteran, you may know that the disability benefits process is complicated and can take time. When you are dealing with the Veterans Administration (VA) working with a disability lawyer is beneficial in helping you prove your case and proceed through the different steps.
A disability attorney can help you receive the benefits you need through your disability claim. This is important if you've been denied and are going through the appeal process.
While the process of being approved for disabled veterans' benefits can be challenging, being approved for disability benefits is not impossible. Because of the time involved, you might wonder if your benefits will be retroactive once they are awarded to you.
According to the VA, disabled veterans who are filing a Fully Developed Claim (FDC) for benefits related to a service-connected disability might be entitled to retroactive benefits.
For this reason, it is important to work with an experienced attorney.
How the Effective Date Works
Disability back pay is calculated following specific procedures. The VA might acknowledge that your disability began during your military service, but you will not receive retroactive benefits that date back to the date of your military discharge.
The amount of your retroactive benefits will depend on the "effective date" of service connection, which usually means the date you first file for veterans' disability benefits.
As an example, if you were hurt on active duty in 1999 but didn't claim your veteran disability eligibility until 2010, your effective date will not be earlier than 2010.
The VA awards benefits from the first day of the month after your effective date, so if they agree your effective date was June 10, 2010, you will be eligible for benefits starting in July 2010.
After a rating decision has been given by the VA, you have a year to appeal the decision. While some people argue that it is better to file a new claim rather than appeal the decision, that is not the case.
Disability lawyers will tell you that if you file a new claim instead of filing an appeal, you will most likely have a new effective date assigned and you will lose out on benefits. To protect your original effective date for benefits, appeal the denial.
As an example, you apply for disability benefits in 2009. After the VA has considered your claim for a year, they notify of your disability denial in 2010.
If you appeal that decision and get a medical opinion showing you were disabled in 2009 because of your military service during your case's pending appeal, you might win your case and be given the effective date back to 2009.
If you fail to file that appeal and wait to file a new claim in 2011, you would lose your retroactive pay dating back to 2009. You would have thrown away two years of your disability benefits.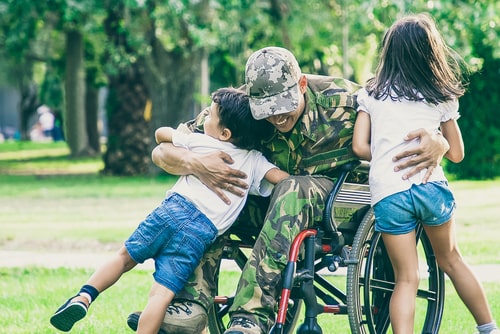 The Veterans Disability Benefits Process
While you are awaiting a response on your VA disability benefits case, your disability lawyer might have you also apply for Social Security disability. You can receive both kinds of disability benefits at the same time.
While the Social Security Administration (SSA) and the VA are both government entities, the work in very different ways and handle disability claims differently.
The Social Security disability qualifications are different than veteran disability eligibility. To receive Social Security Disability Insurance (SDDI), all of your medical conditions are taken into consideration.
To receive VA benefits, only your military-related conditions are considered. You can be approved for VA benefits with a disability rating as low as 10%, but to be approved for SSDI, you have to be fully and permanently disabled.
Applying for Both VA and SSDI Benefits
While it doesn't matter to the VA if you have been approved for SSDI benefits, the SSA looks favorably upon the prior approval of VA benefits. They realize that if one government agency has acknowledged a disability, the more likely it is true.
If you have additional conditions that impact your daily living in addition to the military-related disabilities, that will also prove beneficial and help with your Social Security disability claim.
It can take several months to get a decision regarding SSDI benefits, and your SSDI application can be denied. You would file an appeal, just like in the VA disability situation. Your SSDI benefits can be denied twice.
You would appeal the denials and go before an administrative law judge (ALJ) for a ruling as to whether or not you are disabled. If you are approved for benefits at any time, odds are you will keep your original effective date or date of disability onset for your SSDI benefits.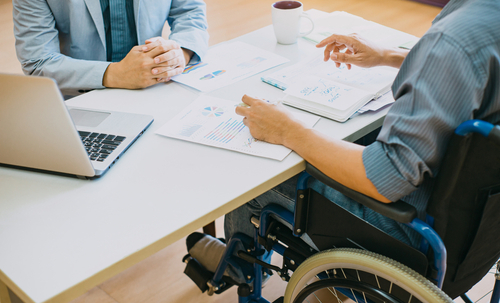 If you don't appeal the denial and file a new claim, you might lose that date just as you would lose the VA disability effective date.
With Social Security disability, the first five months you are disabled are not eligible for benefits and are considered a waiting period. You can file for Social Security benefits after you have been disabled and set the disability date back to when you were no longer able to work.
A judge or Disability Determination Services will go through your medical records and determine if they agree with that as your date of disability onset. A Social Security lawyer will help you throughout the claims process.
Because of the challenge of getting approved for benefits, you should enlist the help of an experienced Social Security attorney whenever you apply for SSDI or disabled veterans' benefits.
The Disability Process
Because seeking Social Security disability and disabled benefits are both challenging, the odds of approval are much greater with the help of a Social Security attorney.
Ascend Disability Lawyers, LLC, has a team of experienced disability lawyers that have helped many people with their claims. To learn more about pursuing a disability claim, call Ascend Disability Lawyers today.