Social Security Disability Insurance (SSDI) is a federal program that acts as a safety net for people under the age of 65 who are unable to go to work due to a disability. Unfortunately, this program is facing excessive demand and regulation, leading to a strain on operations.
When applying for benefits, you are required to provide extensive documentation, and even the slightest omission or discrepancy in the required information can negatively impact their claim.
In fact, stats provided by the Social Security Administration (SSA) show that 70% of people who apply for SSD benefits are not approved. This process can be arduous and calls for the expertise of experienced SSDI lawyers.
Our team at Ascending Disability has handled thousands of cases like yours and we know what it takes to get you approved for the benefits you deserve. We operate on a contingency fee basis, meaning we won't charge you a thing if you don't qualify. Initiate your SSDI claim today by calling (855) 445-9787!
What Can Social Security Lawyers Do For Me?
While an attorney is not required when filing for SSDI benefits, retaining a capable lawyer significantly increases the chances of being successful with your claim (twofold, according to SSA). And even if the administration denies your claim, a seasoned social security lawyer will be able to tap into the necessary avenues to ensure you get a fair chance.
At Ascend Disability, our reliable lawyers can:
Help prepare an official application for SSDI benefits. Our team will help ensure your initial application is accurate and meets all the checkboxes. This is important in ensuring your claim gets approved.
Gather the necessary paperwork needed for a claim and ensure there are no omissions, errors, or discrepancies.
Approach your practitioner to get the necessary medical information.
Make an appeal for your claim if it's denied.
Our team is committed to working in a prompt and efficient manner, using our experience and resources to prevent delays in processing your claim. Reach out to learn more about our services.
Do I Qualify For Social Security Disability Benefits?
In order to qualify for SSD benefits under the SSDI program, you are required to meet the Social Security Administration's disability criteria, which are more stringent compared to other programs. Also, you must have a sufficient working history, which includes paying social security. Let's delve further into these two aspects:
Qualifying Working History
For you to be eligible for SSDI benefits, you are required to have accumulated adequate credits. These are earned by having a job that pays into Social Security. Self-employment is also included, provided that you paid the right taxes.
As of this writing, people earn one credit for every $1,640 earned in wages. There is a cap of four per year and in order to receive social security disability benefits, you need to have accumulated a total of 40 credits, with 20 of those being within the last decade. Please note there are a few exceptions to this for younger individuals and so, you'll want to discuss this further with your lawyer.
Qualifying Disability
The rule becomes even stricter in regard to what qualifies as a disability. In addition to not having a partial or short-term disability, the SSA requires that you meet the following:
The condition does not allow you to work or have substantial gainful activity (SGA).
You can no longer do the same job you did before the condition, and it's a direct result of the disability.
The condition has been present for at least one year or is expected to cause death.
The Social Security Administration also keeps a list of medical conditions that qualify as disabilities. Go through the list and if you do not find your disability on it, ask your lawyer to suggest viable options.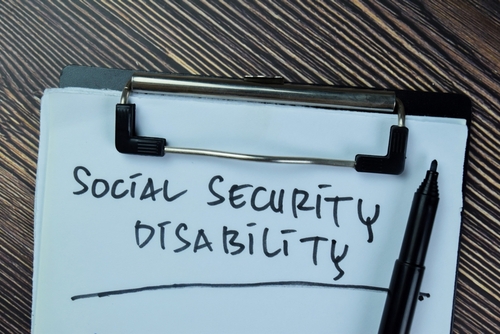 How Does the SSDI Application Process Work in Oklahoma?
Filing for SSDI benefits in Oklahoma is generally the same as it is in other states. More often than not, it involves two stages: paper application and administrative hearing.
The Paper Application
The initial step for an SSDI benefits claim is completing the application. This is done by ensuring the application is correctly done and making certain that you have concrete medical evidence and support from your physician.
You should explain how the disability falls into the impairment list and convince the administration that you're disabled. A competent social security lawyer should help ensure that your application is done by the book. Once you turn in the application, you can expect a response between 3 to 6 months.
Administrative Hearing
If your initial application is not approved, you can file an appeal. This process happens with a hearing before a judge.
The appeals process is also not easy and you're required to present evidence proving that you cannot work due to the impairment. In most cases, a vocational expert will be present to testify. This is an expert who will help the judge determine your ability to work.
They will discuss if there are potential occupations that you can fill before making a verdict.
Our lawyers have handled thousands of SSDI appeals in Oklahoma. They will ensure that your records are well organized, that witnesses are questioned correctly, and that your case is presented in the best manner possible.
What Happens During an SSD Claims Hearing?
A hearing is the third phase in making an SSDI appeal, following the disapproval of the initial application and reconsideration request. The primary purpose of a hearing is to determine the extent of your condition in regards to disabling you.
If you cannot go back to your previous job position, can you be able to achieve substantial gainful employment in another position or occupation?
Hearings are usually held in small rooms, which resemble conference rooms rather than courtrooms. In most cases, the only people present are the judge and their assistant, your lawyer, and witnesses.
The witnesses can be any party you brought to testify on your behalf, like your physician, social worker, family, or friends. Other witnesses can be medical experts or vocational experts that have been summoned to testify by the Administrative Judge. These hearings can last anywhere from an hour or more.
The testimony is the most important aspect of an SSD claims hearing. One of the primary reasons for a hearing is to allow the judge to see and hear from the individual directly regarding how their condition affects their ability to work and day-to-day activities.
So, expect the judge as well as your attorney to ask you some questions. Some of the commonly asked questions are:
How long can you stand?
How long can you sit?
How long can you walk?
How much can you lift?
Are you in pain? Rate it from 1-10.
Can you read and write?
Do you take medication? What are the side effects?
Do you need help in everyday activities like bathing, dressing, cleaning, cooking, or shopping?
Do you require rest during the day? If so, for how long or how often?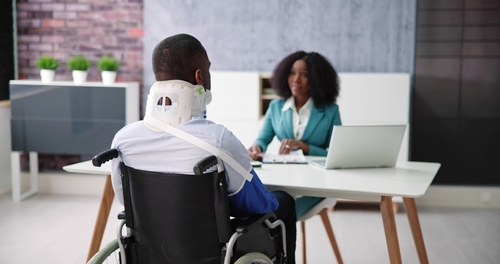 Do not be nervous about this stage as it presents an opportunity to tell the judge directly about your story. Our team will spend as much time as possible going over the testimony before the hearing to ensure that you are not only well-prepared but also comfortable with the questions that might arise.
Also, note that judges don't typically make a decision to approve or deny a claim at the end of the hearing. Usually, there's a period of several weeks or even months after the hearing, where the judge takes their time to thoroughly consider the evidence and testimony presented.
We know it can be hard to wait for the final decision, but this window gives our lawyers additional time to garner additional information and create legal briefs regarding issues that may have come up during the hearing.
When the judge has considered all legal arguments, evidence, and testimony, they will make a final decision and send it to your mail within 2-3 months after the hearing.
Get the Help of the Best Social Security Disability Lawyers in Oklahoma!
Regardless of the type of disability you have, it is important to know the range of disability benefits accessible to help you and your loved ones. A condition or injury that leaves you disabled has the ability to affect your life forever and so, it is imperative to use the right avenues to protect yourself.
Working with a seasoned disability benefits lawyer can make the SSDI claims process run more smoothly. If you are like most Oklahoma residents, you might not be familiar with the process, and it can be overwhelming to collect all the necessary medical evidence and follow all the necessary steps on your own.
Hire our experienced lawyers to represent you and ensure the best results. Call us at (855) 445-9787 to get started!