Any veteran who suffers an illness or injury connected to their active duty military service may be entitled to certain benefits from the Department of Veterans Affairs (VA).
However, not only is the process of applying for these benefits lengthy and complex, denials are quite common. Even the slightest mistakes or omissions can result in a rejection. That's why it is important that you enlist the services of a Louisiana VA Disability Lawyer.
Data from The Census Bureau indicates that 31% of the over 260,000 veterans living in the state of Louisiana have a disability rating. In 2020, the VA awarded over $1.2 billion in disability compensation to veterans in Louisiana.
If you are a veteran with a disability that was suffered in or due to your service in the US military, our Louisiana VA Disability Lawyers at Ascend Disability can help determine your eligibility and subsequently help you file a successful claim. Get in touch with us today at (855) 445-9787 to schedule a free consultation.
What is VA Disability?
VA Disability is a tax-free monetary benefit provided by the U.S. Department of Veterans Affairs (VA) to eligible veterans who have suffered disabilities resulting from a disease or injury sustained or aggravated during active military service.
It is designed to provide financial support to veterans who have been disabled due to injuries, illnesses, or mental health conditions arising during their time in service.
The Department of Veterans Affairs (VA) provides various types of disability benefits to eligible veterans based on their service-connected disabilities. Here are some of the main types of VA disability benefits:
 VA Service-Connected Disability Compensation – This is the most common type of VA disability benefit. It provides monthly compensation to veterans who have disabilities or injuries that are connected to their military service. The amount of compensation is determined by the severity of the disability, as measured by the VA's disability rating system.
 Special Monthly Compensation (SMC) – SMC is an additional form of compensation for veterans with severe disabilities or combinations of disabilities that result in a higher level of impairment.
 VA Pension – The VA pension is a needs-based benefit that provides financial assistance to low-income wartime veterans and their surviving spouses who have limited or no income.
 Dependency and Indemnity Compensation (DIC) – DIC benefits are provided to the dependents of veterans who lost their lives as a result of service-connected disabilities.
 Grants for house modifications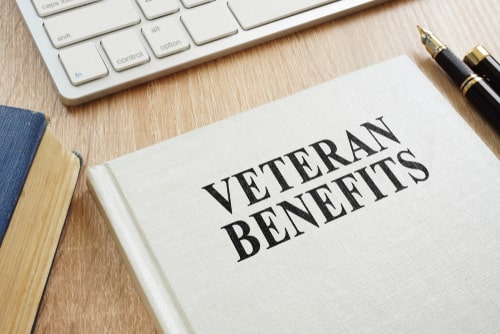 VA Disability Rating
The VA Disability Rating refers to the amount you are paid, depending on your level of disability. This rating takes into account the severity and impact of the disabilities. The VA rates disability from 0% to 100% in 10% increments. A higher rating signifies a more significant disability and results in a higher compensation amount.
When applying for VA Disability benefits, it's crucial to understand the rating schedule used by the VA.
This rating schedule provides detailed criteria for evaluating different disabilities and assigning the appropriate rating. It covers a wide range of physical, mental, and emotional impairments that veterans may potentially suffer.
Your Louisiana VA Disability Lawyer can help ensure your disabilities are accurately evaluated for a fair rating.
The rating process involves a thorough examination of your medical records, including service records, treatment history, and any relevant supporting documentation.
It's essential to provide comprehensive medical evidence and demonstrate the connection between your disabilities and your military service. We will help gather the necessary evidence and build a strong case to support your claim.
What is VA Form 21-4138?
Also referred to as the Statement in Support of Claim, VA Form 21-4138 is a form that allows veterans, their family, friends, or fellow service members to provide firsthand details about the in-service event or injury leading to the disability, its impact on daily life and work, symptoms, and any other relevant information that can strengthen your case.
It's crucial to be thorough and provide detailed information when filling out this form. Fully describe your symptoms and their impact on your daily life and work. Also, provide any supporting documentation, such as medical records or statements from healthcare providers.
This form serves as an opportunity to provide a comprehensive account of your disabilities and their impact on your ability to function.
Statements from fellow service members who served alongside the affected veteran (also known as buddy statements) provide firsthand accounts of events or incidents that may have led to the veteran's disability, corroborating their claim and providing additional evidence.
These statements are important in filling gaps in documentation.
The VA Form 21-4138 is now available in a fillable PDF format on the VA website.
By completing and submitting this form, you can provide the VA with the necessary information to support your claim for benefits.
Is VA Disability Taxable?
No, VA Disability benefits are not taxable.
The Internal Revenue Service (IRS) classifies VA Disability benefits which include disability compensation, pension payments, and grants for home modifications, as non-taxable income.
This means you do not have to report your VA Disability compensation as income on your federal tax return.
VA Disability For Depression
Depression is a common mental health issue among veterans, affecting an estimated 20 percent of the demographic. Depression can be the product of various factors encountered during military service, including combat, traumatic events, and other stressors.
The VA recognizes depression as a service-connected disability if it is connected to the veteran's military service.
To qualify for this, you must provide medical evidence that support the diagnosis and its connection to your military service. VA ratings for depression range from 0% to 100%, with higher ratings indicating greater impairment. Veterans with a service-connected disability rating of 30% or higher may be eligible for additional compensation for dependents.
To determine an appropriate disability rating, the VA will review your treatment history, assess the frequency and duration of your depressive episodes, and investigate the functional limitations caused by your condition.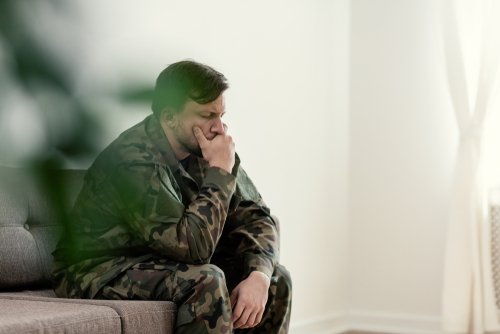 VA Disability Process
While the VA disability process can be complicated, it is important to have a general understanding of the steps involved to ensure that you receive the benefits you deserve. Here is a breakdown of the VA disability process:
Determining Eligibility
To be eligible for VA disability benefits, a veteran must have served in the military for a minimum period of time, have a current disability that is connected to their military service, were not dishonarably discharged, and have a disability rating of at least 10 percent.
Initial Application
The process is initiated once the veteran files a formal claim for disability benefits with the VA. This is done by completing VA Form 21-526EZ or applying online through the VA eBenefits portal.
Evidence Gathering
The VA will then review the application and request medical records and other evidence related to the claimed disability. This evidence can include service records, medical reports, and statements from doctors or other witnesses.
Compensation and Pension (C&P) Examination
The VA usually schedules a Compensation and Pension (C&P) examination to evaluate the veteran's disability. This exam helps the VA determine the severity of the disability and its impact on the veteran's daily life.
Claim Determination
After reviewing all the evidence, the VA will then make a decision on the veteran's disability claim. They will determine whether the disability is service-connected and assign a disability rating, representing the level of impairment.
Notification of Decision
The VA will then send a notification letter to the veteran informing them of the decision on their disability claim. If approved, the letter will also state the assigned disability rating and effective date.
Appeals Process
If the veteran is unsatisfied with decision made by the VA, they will have the automatic right to appeal. The appeals process involves requesting a review by a higher-level authority within the VA and, if necessary, appealing to the Board of Veterans' Appeals.
Compensation
If the disability claim is approved and the veteran is granted a disability rating, they will start receiving disability compensation. The amount of compensation depends on the assigned rating and the presence of dependents.
All in all, it is important to keep in mind the fact that the VA disability process can be complex and lengthy, and each case is unique.
Get in Touch with an Experienced Louisiana VA Disability Lawyer Today!
Navigating the VA disability process can be a challenging journey for you. However, it is your legal right to seek compensation for your service-connected disabilities. Our dedicated legal team at Ascend Disability fully understands the sacrifices you've made for our country, and we are here to support them every step of the way.
We are committed to helping veterans in Louisiana access the benefits they deserve. With an in-depth understanding of the VA system and extensive experience in handling disability claims, we are well-equipped to guide veterans through the complex application process, gather all the necessary evidence, and advocate for their rights.
If you are a veteran in Louisiana seeking VA disability benefits or have faced a denial or inadequate rating, do not hesitate to reach out to our experienced Louisiana VA Disability Lawyers at Ascend Disability.
Our skilled legal team is ready to provide you with the legal assistance that you need. Call us at (855) 445-9787 today!