Getting an injury while on the job can be overwhelming and complicated to navigate. Unfortunately, dealing with what comes after your Texas workplace injury can prove to be even more complicated. But, having an attorney by your side can make the whole process less stressful.
A Texas workers' compensation lawyer can help you navigate the process of filing a workers' compensation claim with ease and increase your chances of getting compensation. At Ascend Disability, our workers' comp lawyers work on your behalf throughout the claims process, facing off with employers and insurance companies to ensure you get the compensation you deserve.
Having represented numerous clients in workers' comp claims, you can trust us to handle your case while you focus on your health and recovery. You can contact our Ascend Disability Workers' Compensation attorneys at (855) 445-9787 or by filling out our online form.
What is Workers' Compensation?
Workers' compensation is a state-managed insurance program that provides benefits to people who suffer injuries or illness while on the job. Being a "no-fault" program, means workers are entitled to workers' comp benefits without having to prove who was at fault for the injury.
While this insurance program covers workers from their very first day on the job and enables them to get benefits without having to go to court, it has a downside. The downside is that workers can't sue their employer for their injuries if they carry workers' comp insurance.
How Do I Know My Injury Is Covered by Workers' Comp?
If your employer carries workers' comp insurance, you are eligible to receive benefits once you sustain a work-related injury or occupational illness.
If you sustained the injury or illness in the course and scope of employment while furthering the employer's business then the injury could be covered by workers' compensation.
What Are The Types of Workers' Compensation benefits In Texas?
Suffering a workplace injury can cause financial losses. Apart from medical expenses, you stand to miss out on valuable wages while you are out recovering. In some instances, your injuries may prevent you from returning to your job in the same capacity.
Fortunately, Texas workers' compensation benefits can provide an avenue for recovering damages. Texas workers may be eligible for the following workers' compensation benefits:
Income Benefits
These benefits range from temporary to lifetime benefits and are designed to compensate for some of the lost wages due to injury.
Medical Benefits
These make up for reasonable and necessary medical care for your workplace injury.
Burial Benefits
People who suffer fatal workplace injuries qualify for compensation to help with funeral expenses.
Death Benefits
These seek to compensate families when their loved one dies due to a workplace injury.
What Should I Do If I'm Hurt On The Job?
Tell Your Employer You Are Hurt. You should report your injury to your manager, supervisor, or employer as soon as possible but no later than 30 days.
Get To A Doctor As soon as you can and follow your doctor's instructions. Your health should always be your priority. Make sure you are treated for all injuries o matter the severity and heed your doctor's advice.
Start and keep a written record of your injury and symptoms. Make certain you keep track of all the details of your injuries and symptoms in writing
Take photographs of your injury, if visible. Photos of your injuries will serve as visual evidence that you suffered an on-the-job injury.
File a workers' compensation claim with the assistance of a workers' compensation attorney. Contact an experienced attorney to help you file your claim correctly and on time.
Rest and recuperate. You should give yourself a break after a workplace injury to recover from your injuries as your lawyer handles your case.
How Can a Texas Workers' Compensation Lawyer Help Me?
Knowledge and experience: Our workers' comp lawyers at Ascend Disability understand the Texas workers' compensation to a tee including rules about eligibility, forms that need to be filed, the most effective types of evidence, and the deadlines for filing various documents.
Investigations
We will investigate the facts of your case, and prepare and file all the necessary documents.
Negotiations
Being expert negotiators, our lawyers will get you the best possible settlement deal or compensation package.
Representation
We will also represent you in all meetings, hearings, and proceedings.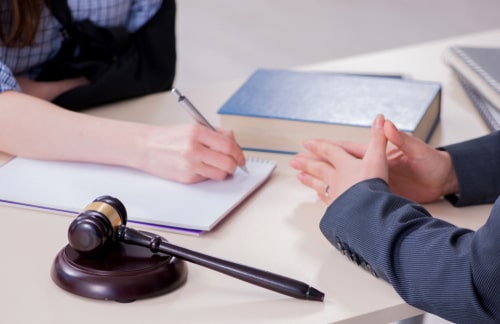 How Much Does a Texas Workers' Compensation Attorney Cost?
Unlike some other states, Workers' compensation attorney fees work a little differently in Texas. Your employer's workers' comp insurance pays your lawyer's attorney fees depending on the amount of benefits you get.
In total, 25 percent of your benefits will go to your attorney. At Ascend Disability, we offer a free initial consultation and will charge you only after recouping the benefits you are owed. In other words, we offer our services on a contingency fee basis.
Steps For Filing a Workers' Compensation in Texas
The general steps to follow when filing for workers' compensation in Texas include:
Report your workplace injury to your employer. You have a 30-day time frame so the sooner you inform your employer the better.
Submit a DWC form -041, Employee's Claim for reimbursement within one year of your injury date to the DWC.
Analyze the reply from your employer's insurance company. Your employer's insurance company will assess your claim and send a reply letter. It's best you review this reply with your lawyer to help deduce whether a settlement offer is fair.
If your claim is denied, you can challenge the decision through the Division of Workers' Compensation.
What Responsibility Does the Employer Have In The Workers' Compensation Process?
During the workers' comp process, employers are responsible for:
Notifying their employees that they carry workers' comp insurance through a written notice. They must also report this matter to new employees upon hire.
Reporting an injured employee's wages and other benefits such as health premiums, uniform allowance, etc. to the insurance carrier.
Reporting injuries and illnesses.
Complying with workers' compensation requirements.
What Are My Rights After an On-the-Job Injury?
Under Texas workers' comp laws, you are guaranteed the following rights:
To get medical care from the doctor of your choice from an approved list or your preferred doctor from within the workers' comp healthcare network.
To receive benefits for your workplace injury, as long as your injury did not result from horseplay, a planned accident, intoxication, an act of God, a personal attack, or off-work duty.
The right to assistance from a local ombudsman.
The right to keep your workers' comp claim confidential
The right to an attorney
What Can I Do If My Claim Is Denied?
When you are denied benefits following an on-the-job injury, you have the right to file an appeal. At this point, if you haven't contacted a workers' compensation lawyer it's best to do so to appeal and avoid a second denial of the benefits you deserve.
Are There Deadlines for Filing a Workers' Compensation Claim in Texas?
Texas law dictates that injured worker must file their injury report within 30 days of getting injured on the job. Once a physician documents your impairment rating, you will have up to 90 days to appeal.
You will also be afforded only one year to file a formal workers' compensation benefits claim with your employer's insurer. The clock starts ticking on the date of your workplace accident. But, if your illness or injury is not apparent, the clock begins to run when it's diagnosed.
Once you let the deadline pass, you will lose the right to file a claim and lay claim to the compensation you deserve.
Can an Independent Contractor File a Workers' Comp Claim in Texas?
Even if the paperwork says you are an independent contractor, you can get workers' comp benefits in Texas if you can prove that you are actually an employee.
Can I Be Fired for Claiming a Workers' Comp Claim?
Texan law prohibits an employer from firing an employee for filing a legitimate workers' comp claim. The law also prohibits employers from discriminating and retaliating against employees who file a workers' compensation claim or testify on their own behalf or on behalf of an injured co-worker in a workers' comp proceeding.
Can I Sue My Employer?
This depends on whether your employer is a subscriber or non-subscriber to workers' comp benefits. If your employer is a subscriber, you can't sue them for a workplace injury covered by workers' comp. But, you are free to file a personal injury claim if the employer is a non-subscriber.
What is My Texas Workers' Compensation Claim Worth?
Your workers' compensation claim's value is equal to the sum of your income and medical benefits. When evaluating your case with your attorney, you will need to disclose the extent of your injuries and your wage history.
Contact a Texas Workers' Compensation Attorney Today
At Ascending Disability, we pride ourselves on our excellent attorney-client relationship. We treat all our clients with compassion, respect, and professionalism. Having served the Texas community for many years, you can trust us to take on any insurance company, employer, or individual to fight for what you deserve.
If you are ready to begin the legal process for compensation for work-related injuries, reach out to our experienced Texas workers' compensation lawyers today at (855) 445-9787.