If you're in Texas, are disabled and in need of assistance with your VA Disability claim, you need to contact a Texas VA Disability Lawyer today. An experienced VA Disability lawyer will help you to navigate the court system and fight to secure your compensation.
Don't go it alone; call a professional to assist you with your case and get the compensation you deserve.
Our services are dedicated to serving you, our nation's veteran, and ensuring that you receive the amount you're due.
We're dedicated to helping disabled veterans all over the state of Texas receive the compensation that they deserve. Give us a call today at (855) 445-9787, and let's get started on your free consultation today.
The sooner you call, the sooner we can work with you and get your case filed so that you can receive compensation. The call and consultation are free, We don't get paid until you get paid.
We understand that you're struggling and need help fast. We work closely with our clients to ensure that everything is filed in a timely fashion and that all the required supporting documentation is included so that a quick decision on your case can be made. Filing with a complete application with all supporting evidence will expedite the claim process.
What is VA Disability?
A VA Disability is financial compensation that is awarded to veterans for illnesses and injuries that happened during their time of service to their country. Compensation may include monthly payment, vocational training for a different vocation, medical care, and other benefits.
In all, total benefits and compensation will be based on the severity of the disability and the rating of your disability.
VA Disability Rating
A VA Disability rating is a score that the United States Department of Veterans Affairs (The VA) assigns to veterans or members of the service who have been determined disabled by the Veterans Affairs.
The rating is based upon the severity of the veteran's disability or their disabilities as per the VA's rating criteria. The higher the score of the rating, the higher the amount of compensation due.
What is VA Form 21-4138
Form 21-4138 is a form that you will use to submit documentation or evidence of a variety of VA benefits and services. These include disability compensation, education, pension, vocational rehab, and other services.
The form is also referred to as a Support of Claim. It's usually completed and signed by a doctor, qualified healthcare provider, or former or current employer. If this form is not completely accurately, it can slow down your claim.
Is VA Disability Taxable?
VA disability benefits are not taxable. They are not considered to be income for Federal tax purposes. Also, most of the VA disability payments are exempt from taxes at the State level as well.
However, it's important to understand that some states may tax all or a portion of the benefits. Each state has its own specific requirements, so it's important to know what your specific state will require.
If taxes are required, you'll want to make sure that they are taken directly from your payment so that you don't have to worry about a late payment. Your Attorney will provide more insight on this.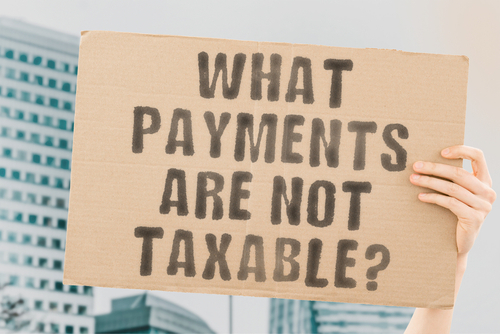 VA Disability For Depression
According to the Department of Veterans Affairs, the VA covers depression as a service-related disability for some veterans. In order to be eligible for disability benefits for depression, you must have a diagnosis of depression from a medical professional. The condition must be related to your service in the military.
Depression can be a debilitating condition for some, while others may not have as much of a reaction. Everyone is different. For this reason, everything must be documented by a medical professional prior to submitting it with the filing for VA Disability benefits.
If you are diagnosed with depression must also show that their mental condition was a direct cause of your service. Also you have to show it's mentally debilitating enough to affect your daily life and ability to work a steady job.
When filing for a VA disability claim citing depression, you must show medical records of your service as evidence of the condition and its cause. If medical records aren't included, the application may be denied.
After filing the claim, a team of experts will review the claim and ensure that all of the criteria are met regarding the veteran's medical condition. Each case is evaluated on a case-by-case basis.
It's not at all unusual for the VA to request more information or additional before a decision. In order to improve the chance of obtaining disability benefits, it's important to first communicate with an experienced attorney, who will assist with gathering and filing the documents needed. In all, it is important to respond quickly to avoid your claim being denied.
VA Disability Process
The Veterans Affairs Disability Benefits process is designed to determine your eligibility for compensation. It may also include health care and other benefits depending on the circumstances of the disability.
In order to be approved for Veteran Benefits, you must apply for and submit the required evidence to support their claim. Each step must be completed in full to ensure that you qualify for your VA Disability. There are four basic steps to the process:
1. Submit a Disability Benefits Questionnaire, also referred to as a DBQ.
This form is used to collect the required medical and military service history so that the VA can easily review it. A healthcare provider will complete it. It shows the veteran's condition and whether or not they are considered disabled.
2. Collect Supporting Evidence
Supporting evidence must be included in the paperwork. This includes medical and service records. The VA will make a quicker decision if all of the required paperwork is enclosed in the application.
It's vital to submit the most accurate and complete information. The more complete the application, the more likely you are to receive a quick and timely decision.
3. Submit Your Claim
You must submit your claim and all of your supporting evidence to the VA so that your claim can be reviewed. This can be done in person, online, by mail, or via their toll-free call center.
4. Receive A Decision
After reviewing your claim, the VA will determine your eligibility. If they request more information, it's important to submit that as soon as possible to avoid any delays in the decision-making process.
After reviewal, you will receive a grant or denial letter.  The entire process may take quite some time, as the VA reviews many claims.
Call Ascend Disability Today
If you or someone you love has a disability due to serving our country, you may be entitled to some form of compensation.  Contact a Veteran's Disability Attorney and get a free consultation to see if you may be eligible for benefits.
Our services are dedicated to serving and ensuring that you receive the amount you're due. We're dedicated to helping disabled veterans all over the state of Texas receive the compensation that they deserve. Give us a call today at (855) 445-9787, and let's get started on your free consultation today!